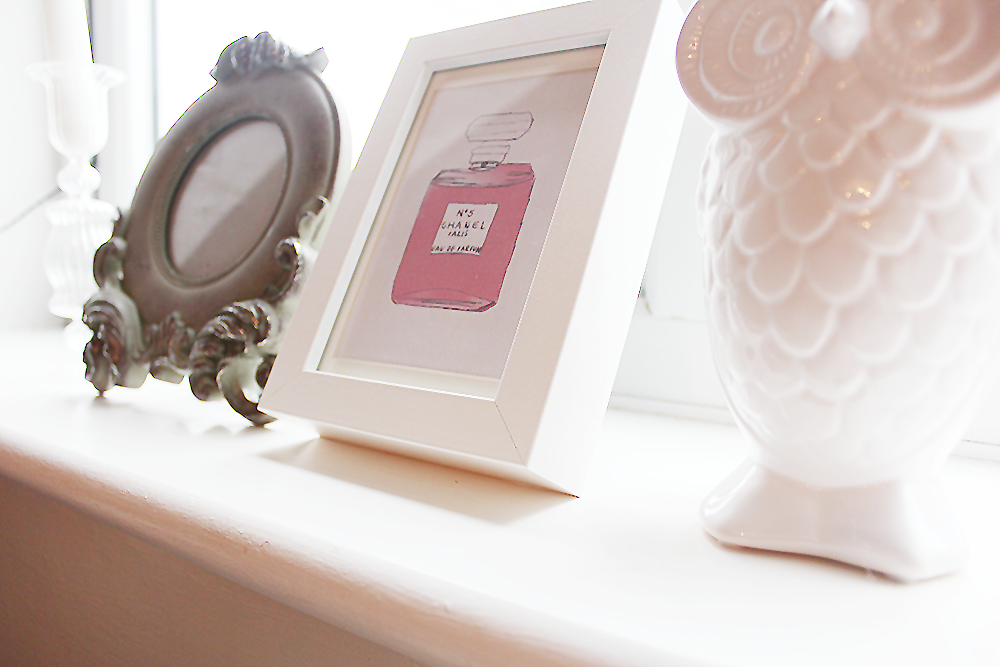 My decor posts seem to be my most popular - which is also probably what I love most but wished I post more often. With my house being full off on going projects I'm not able to show you each room completely as it would just annoy me. Un till one room is completely how I like it, I thought I would show you a few snippets. My colour scheme through most my rooms are grey, white with pops of colour.
In one of my previous posts I mentioned I was painting my kitchen cabinets. They are nearly finished, but we need to re-tile the creme tiles to either a white or grey. I can't wait to see it all finished. It's surprising what a little bit of paint can do.
The last photo has reminded me how I need to add photos to all my empty frames. The perfume drawing was awfully drawn by me but my sister can draw and is starting a etsy shop doing a similar ones in watercolours galore. I can't wait to show you my mulberry canvas she has done. I'll post about her store later in the week when it has launched.
Hope everyone has had a lovely weekend. I'm going to catch up on some of my favourite blogs, have a relaxing bath and probably watch a film. The shop has been a bit mad this week. Not with customers, just with financial things. I'm really excited to get some new stock in and having a transformation on the website. I'm definitely going to go forward with developing the website and having it fully stocked after feedback from our flash sale I posted. Really excited for lots of projects both with my blog and Gifts & pieces. Oh, and I'm nearly at 700 GFC followers which is amazing! I can't believe in the space of a month how much my views have increased and the lovely comments/emails I have received. Feeling more than content with everything for a change.