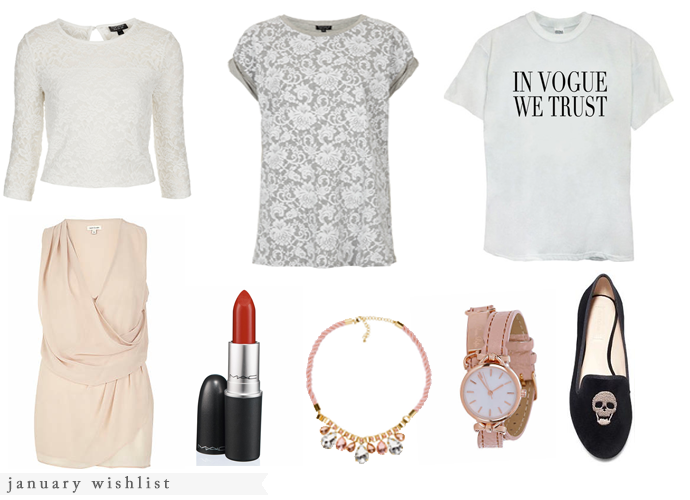 I'm off shopping this week, probably to Meadow Hall so I've been having a good old look online at my favourite shops. I now have a list as long as my arm of things I want to get so I thought I would narrow down some of the items to show.
Topshop floral lace crop top
here
I love lace and I love 3/4 sleeved tops due to the face I hate my arms. So this seems to be pretty much the perfect top. It is also cropped which means I can wear it with a skater skirt if it is long enough.
Topshop lace print tee
here
Again.. I can't get enough of lace. I really want some laid back t-shirts which are easy to wear.
'In Vogue we trust' t-shirt
here
I originally saw this on one of
VIPXO's
ebay posts and bookmarked it straight away.
River island wrap top
here
I couldn't tell you the last time I purchased something from River Island. I kind of went off the store when they over printed their brand on the handbags. But, recently I've been able to find loads of lovely pieces there - including this top. They do it in navy too.
Mac lipstick in Russian red
here
I've wanted a good bold red lipstick for a while now. But I've never really been brave enough to wear anything darker or brighter than a nude. I brought a red lipstick the other day (which I will post in the week) and now want to try more reds.
I've always loved H&M's jewellery range - so hopefully I can find this when I go shopping.
River island rose gold wrap watch
here
I really need a new watch - not that I hardly ever look at the time. But, my wrist just feels strange without one even with multiple stacks of bracelets. My chunky rose gold watch from ASOS has well and truly died. It seems to work when the back in on but without it's dead. After buying my boyfriend a Michael Kors watch last year I have had my heart set on one. But, with recently going completely self-employed I need to manage my money well before an impulse buy.
Zara put these in their sale, when I should have bought them straight away. But, I didn't. I actually want any of the Zara slippers they have. Although, I've seen some lovely ones which people have been buying from Primark. So I will have a look there first.