Here is a couple of things I have picked up for my bedroom. One being a mini Acrylic draw from homebase. I have been searching for something else to sit on my dressing table for ages, never thought of matching my other acrylic draws with this. I've put some lipsticks in it just to show, but it now has a mixture of things which I use everyday.
The jar was from TK Maxx. I love finding little things like this there. Was only a few quid and really matches my interior in my bedroom.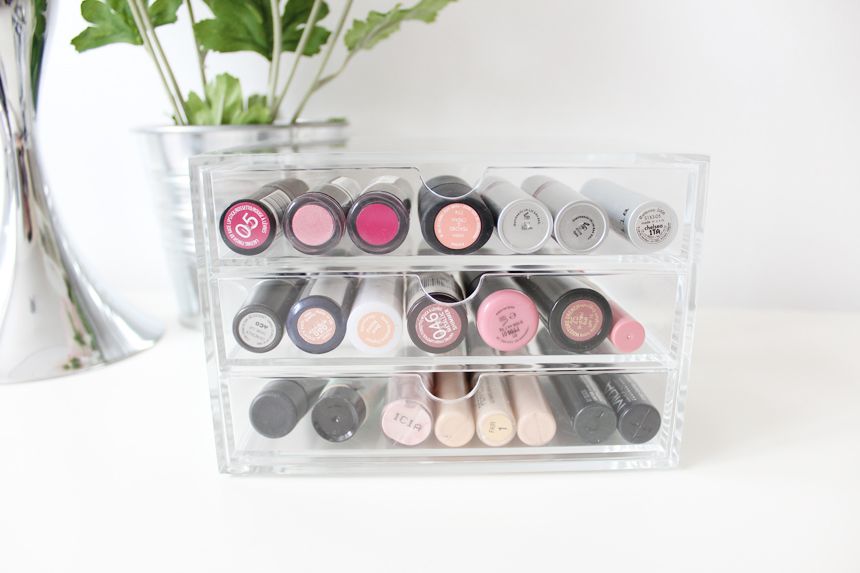 It's been so so long since I've blogged. I've only blogged once in June! But that is because I am getting closer and closer to opening the shop. I'm thinking of doing a preview of stock I have chosen as well as a before and after of decorating the shop. When things cool down I can be back into blogging regulary.
I did Day 1 of the 30 Day Shred yesterday. And boy am I aching. I haven't properly done excerise for about 2 years so really wanted to do something. I'm not able to go to the gym as I have a back injury and problems breathing so thought might as well jump on the bank wagon of 30 Day shred. I've seen so many good reviews and photos from the workout. It's only 20 minutes long too. Which is perfect to fit into my busy life with literally two full time jobs starting. I think I'm going to do it every other day unless I start getting fit sharpish. At the moment I am struggling up and down the stairs and my abs kill! It was easier than I thought though. But it is Level 1. Also want to really concentrate on healthy eating (hmm ignore the energy drink and fanta today) but seriously I have cut down no end already. If I cut everything out I will not stick to it.
Hopefully I will post tomorrow, but if not I have a weekend ahead of web design and logo design, so will sure have a break and post. At least it is Friday tomorrow. Hope everyone has had a lovely week. Looking forward to the weekend.
+ Nearly forgot - I am in the middle of AGAIN changing my blog layout. So please excuse the mess. I dont have any links on anything at the moment but will be adding them shortly. I also have a lot of things missing from the sidebar. Trying to make everything user friendly although I do like my mimilaist style if you haven't already noticed.
If you need to email me my address is unobserved326@gmail.com