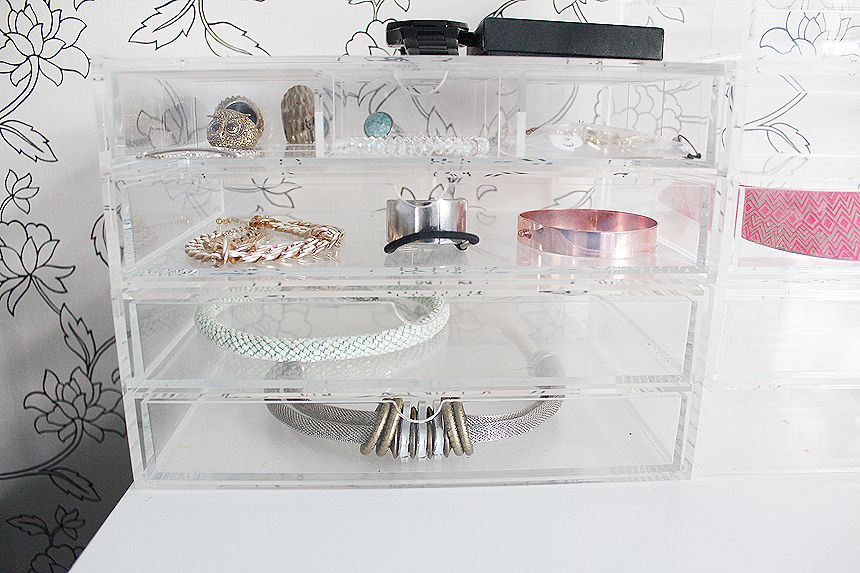 I've been trying to have a real sort out of my makeup and jewellery just recently. My makeup was over spilling in my
Muji
drawers and I wasn't too keen on how they looked. If something looks messy I prefer it to be well hidden. I brought
this
Ikea set of drawers a couple of months ago and hadn't had chance to re-arrange everything un till last week. I still have a lot more jewellery to put in them - as you can see I have another tower of drawers still empty.
I use to have a set of drawers for my makeup before, so I already had the inserts and containers to put in them and organise. I also chucked out a lot of makeup. Some makeup which I just didn't get on with and there was a lot of makeup which was still in packaging. I can now see this in the drawers and I have it organised into categories like foundation, cheek colours, eyeshadows etc.
This left my
Muji
draws empty though, so I decided I would display my jewellery in it. My jewellery is often neglected due to it being stored here, there and everywhere. Now I have somewhere where I can see every piece I have. I just have to find some time to finish organising the rest of it. I might even order the jewellery inserts from
muji
, but I think I like the whole clear view. What do you think?