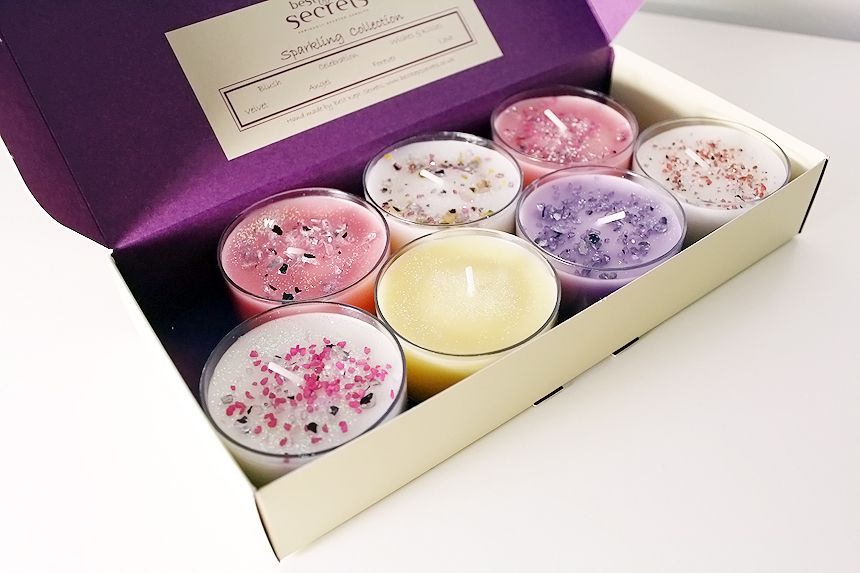 Best Kept Secrets Super sevens - Sparkling Collection
Excuse the quality of the photos on this post, I've been putting off posting as I only get chance to take photos late at night with a daylight spotlight. Still trying to get it just right.
I thought I would start a series of posts for christmas gift ideas. I own a gift shop, so I thought why not. I'm surrounded with little gifts and pretty homeware pieces as well as the off male gift.
We got these large tealight sets in the shop the other week, and I've already brought one for myself. This one is the sparkling collection which includes scents such of jasmine, rose, lily, vanilla, caramel & honey to name a few. I love how different these are. They have a 70hr burn time which for the size that are is amazing. With the pretty glitter and sprinkles they would make the perfect present. The scents are strong but not overpowering. And, they are handmade - which I always like for a gift.
They come in a gift box and sleeve. We also got in the festive set which has scents of cinnamon, frankincense, florals and cranberries and the Indulgent set which includes scents of Shortbread, Apple tart and gingerbread. Although, I love a good Yankee Candle these are perfect for being a little 'different'.
Has anyone started their Christmas shopping yet? I've brought about 3 presents so far. But need to get buying, as I'm going to be so busy with the run up to christmas.