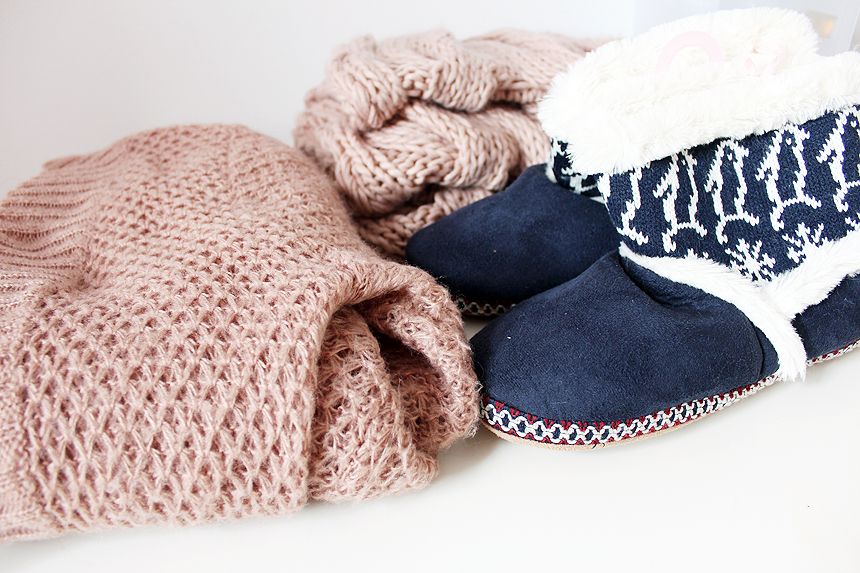 I wasn't actually tagged to do this but I thought it would be fun to do. I'm getting so excited for Christmas. I'm such a kid, but I've been decorating the shop with Christmas things and ordering gifts and decorations all week. Even maneged to put a few decorations up in my house. Some that my boyfriend hasn't noticed yet and some he has shook his head at. Think the glittery snowflake above the TV was a bit of a give away. He was watching football at the time!
Q1: What item of clothing do you love to wear in winter but wouldn't be seen wearing in public?
I think a lot of peoples answer would be a Onesie, although my boyfriend banned me from wearing my reindeer one last year so I need to go out and get another, as it wasn't long enough and hurt my toes. I need to get a footless one.
It would have to be a hoody. I have a couple of over sized ones which I love to cuddle up on the sofa with. I do take the dogs for a walk in them, but no one would see me as I live in the middle of no where.
Q2: Most wanted item for autumn/winter?
I really want a one of the khaki jackets with leather sleeves. I wish I got one from Zara yonks ago. I can't seem to find the perfect one. I know a lot of high streets are doing them at the moment. Must get looking.
Q3: Favourite boots to wear in the winter?
Normally I like flat ankle boots. Last year I lived in my Topshop Chelsea Boots, but this year I really like the heeled ones. I never realised how comfy they can be.
Q4: Are you a fan of UGG boots?
I'm really not, although recently I have seem a few bloggers wear them and made them look not so slippery. I use to have a pair back in the day, but not again.
Q5: It's snowing/raining outside, what are you favourite wellies to wear?
I haven't worn my wellies since last year in the snow when I fell (flew) over on ice and bruised my hip, back and leg. I am now scared to even go near the things. In fact, I don't know where they are.
I would love to get some hunter wellies for walking the dogs in though. My boyfriend has a few pairs and they look so comfy.
Q6: What is your favourite autumn trend?
I love the army trend at the moment, even though I haven't brought many pieces into my wardrobe yet.
Q7: What is your typical winter day consisting of?
At the moment I don't ever have a day where I am doing nothing but after a day at work or at the shop I will snuggled up on the sofa in a hoody and a fleece cuddling my dogs. It's then often followed by a warm bath with any bath goodies I have hanging around. (I've recently stocked up on Snow fairy from Lush!)
Q8: Cup of tea, hot chocolate, or coffee?
I don't like tea, hot chocolate or coffee. I really don't like alot, ay?
Q9: Do you like or dislike that it's starting to get dark?
I love this! It makes it so easier to un wind after work and snuggle up. It also means Christmas is on it's way!
Q10: Christmas is coming, do you have any idea of what you want?
I know exactly what I want. I hoping to get the new iMac 27inch. Although there are rumours that there is a delay in production and it may not be realised till Jan 2013, but it no info has been released on the website yet. Fingers crossed!
My Christmas shopping is nearly complete. I've had to be organised this year as it's the shops first Christmas so I'm really busy.
If anyone else has done this tag, comment with your link below so I can have a nosey. Hope you have had a lovely weekend.