I love doing these type of contests where you have to style outfits from a certain brand. I saw Amy's post from
Amy Antoinette
about a contest she is running with Next to win a £500 gift card, so thought I'd give it a go. Clicking on the next website (which I admit I don't do often) I was surprised at how many on trend items they had. I've found a few things which I want to purchase myself. I was originally going to do a day, work and evening look but changed to do a day and two evenings. I don't know about you, but for evenings I tend to feel like wearing jeans with heels or a skirt/dress. So I decided to do two evening looks. I've also sketched some ideas of makeup looks which I would pair with them.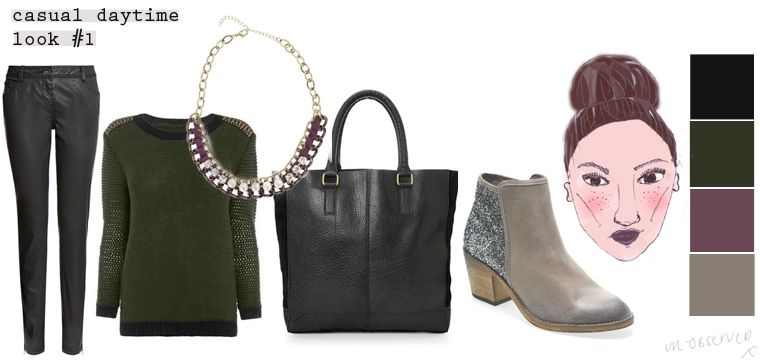 For my daytime look I first found the coated jeans. I've been looking for some for a while and paired them with a khaki studded jumper. The military trend is all over the high street at the moment and will probably continue all season. The boots are my favourite. I'm really loving the heeled ankle boots and these are a bit different to your typical black ones and the glitter! - love the glitter. The tote bag is perfect for everyday as I always carry around half my bedroom and bathroom and this ones looks pretty spacious.
For makeup, I wanted to do a berry lip. I've always worn nude pink lips but have been a bit braver recently with more deeper shades, even in the daytime. I've kept eye makeup to a minimum though.
I wanted to put together a outfit which can be easy to accessorise and I wanted to use the coated jeans again. I love the shade of the blouse and thought it would look perfect with some rose gold jewellery. I found a chunky watch and some glittery bangles which fit that. The necklace is really delicate looking and perfectly ties everything together.
I've not been one for a kitten heel but the studded courts are stunning! I've seen a few similar on the highstreet recently, so need to get myself some.
For makeup I went for a nude lip and Rosy cheeks.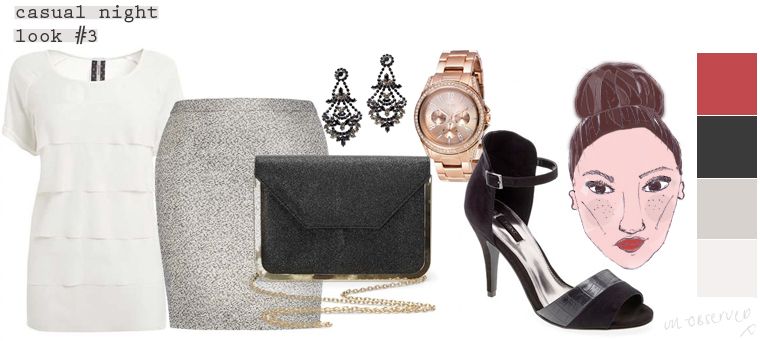 I love metallics and they are back in season this autumn/winter. I was surprised to find this skirt but thought I could put together a really simple look. I added the cream tiered top which could either be tucked in or left long. The bag looks more expensive than it is at only £22.
But the shoes... I love the back of them. They look very classic and stops the outfit looking bland. Again I paired it with the rose gold watch but added some earrings and didn't add a necklace - thought it would look a bit OTT with anything else.
I wanted deep red lips for this outfit and smokey eyes, and plenty of bronzer to add some colour.
Hopefully the sketches don't scare you. I was pretty surpised how I could make my drawings look half ok when imported into photoshop.
What do you think, anything take your fancy?