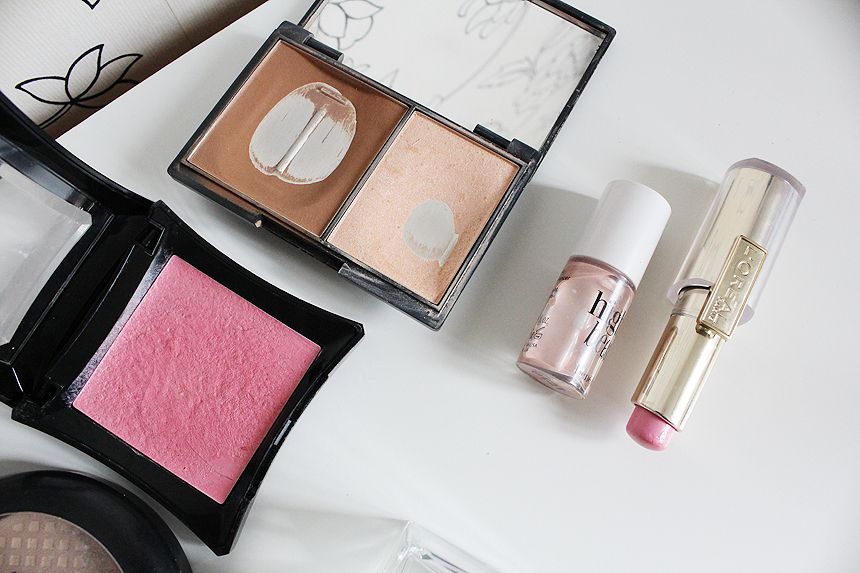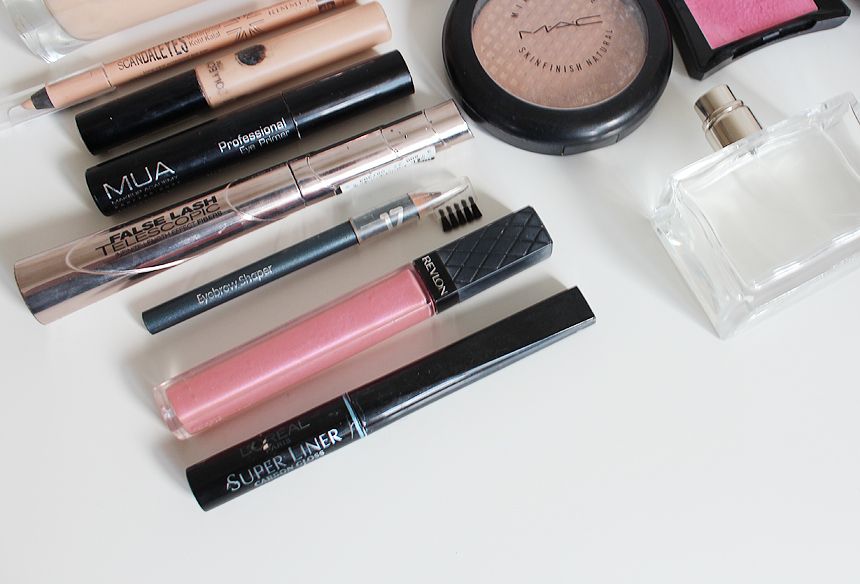 I thought I would show you some makeup products which I have been using daily. I have been working from home the last couple of weeks so haven't had to rush to do my makeup. Some days I have only put some mascara and tinted moisturiser on - but I always find when I do my makeup it instantly wakens me up and puts me in a brighter mood.

A new find, is the L'Oreal Lumi Magique Foundation. I brought this on whim about a month ago now and find it to be very much like Revlon photo ready but it is much lighter in texture. It keeps my face moisturised throughout the day and really does brighten your skin up. Normally foundation dries up on my skin in about 5 hours but I found this stays put giving the dewy finish. I wouldn't recommend it for anyone which oily skin as I'm sure it would literally slide off, but perfect for anyone trying to give your skin a much needed glow.

The Rimmel scandal eyes kohl waterproof eyeliner is perfect for the waterline. I have one in the shade nude and it is perfect instead of using a harsh white liner to brighten the eyes. I really want to get another in the shape 'taupe' now as they are so easy to blend and stay put for ages.

The perfume is Ralph Lauren romance. I'm in love with this fragrance. It instantly makes me feel made up.

My all time favourite eyeshadow is jest from mac. This is the only mac eyeshadow I have out of my pan. It's easier to have it as a single as it is a basic in my makeup bag. It don't often go for a shade of pink on the lid but it has the most perfect glistens of gold running through it giving your lid depth without the hassle of contouring.




Image 01-
L'Oreal Lumi Magique Foundation - Boots/Superdrug RRP £10.99
, Rimmel Scandaleyes Kohl Waterproof Eyeliner in Nude, Collection 2000 Lasting Perfection Concealer in shade 02, MUA Professional Eye primer, L'Oreal False Lash Telescopic Mascara, 17 Eyebrow shaper, Revlon Colour burst lipgloss in Crystal Lilac, L'Oreal Super liner in Carbon Gloss. MAC Eyeshadow in Jest, MAC Mineralize Skin Finish Natural in Light, Illamasque cream blush in Promise, Ralph Lauren Romance EDT, Sleek Contour kit in light, Benefit High Beam, L'Oreal lip Caresse lipstick in shade 01.