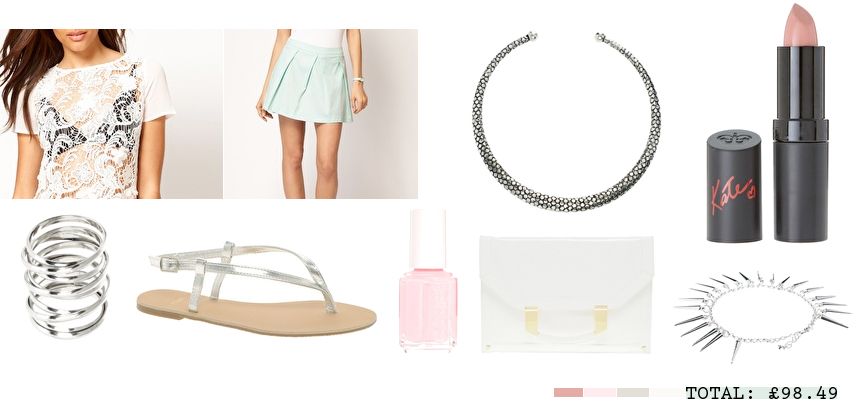 Essie Nail Polish in Pink-a-boo £6.50
I've seen a few bloggers do the £100 Asos Challenge which
Discount Coder
is running and thought I might as well have a go myself. I basically trawl through the ASOS website every day anyway. I was originally going to go for a evening outfit but with the floods and storms we've had in England recently I wanted to put something together for when the weather gets better again (if it does). Thought I'd style something which could be worn on a warm evening.
I have some mint jeans and a blazer and browsing ASOS the other week I saw this skirt. I like wearing full skirts instead of fitted ones and i love the pleat detail on it. Really makes it look classy but fun with the colour. For the top I went looking for something lace. I'm always a lover of lace. You can dress lace up or down and I think with the white top it could complement a bronzed tan (or fake!). I was pretty surprised with how much I have just pretended buying so thought I could really accessorise the outfit.
Firstly, I went looking for a necklace. I wanted something to make a contrast from the soft outfit so far. I thought this choker necklace complemented it perfectly. I then found the spike anklet. I really want some anklets. I can remember wearing them when I was younger, but the spikes really make it something different.
I saw a silver theme going along after the necklace and anklet so thought I should find a cluster of rings or something chunky. I found this ring which I really want. Very simple but chunky. With the jewellery only coming to £20 , I thought I better get some shoes. Although there are some pretty sandal heels on ASOS at the moment, I wanted something fuss free so went for some simple flat silver gladiator sandals.
For the clutch, I didn't want one with any silver on as all the jewellery was silver and I love mixing metals. The white made it a perfect summer bag. Looks very subtle.
Finally, I had some money left over so went for a pink shade of Essie and one of my favourite high street brand of lipsticks Rimmel.
Overall I love the outfit I put together, and if i'm not lucky enough to win the competition I will happily buy the pieces. That's if this English weather changes. I actually surprised myself at how much the outfit came to. I thought I would struggle staying under the £100 mark.
If anyone else has done the challenge, please leave your link so I can have a nosey.