Thought I'd show a few things I've brought recently. I went to Ikea yesterday with my family to look at furniture for the shop. I picked up a couple of things for my house as well, of course. I got some more artificial flowers to swap with any plants which I have let die. I'm awful at keeping them alive. I either over water them or under water them. The only ones I can keep alive are orchirds.
I also got these two striped pillow cases for bed. I really need to finish getting things for my house to make it feel homely as I still don't feel like it is.
I've needed a new purse for a while now. I had the Soft leather one from Topshop which they have in many other styles but I always managed to have things falling out of it because it was so soft. I saw this in Topshop last week and had to have it. I love how different it is. Although, I regretted it about 4 shops later when I was setting every shop door alarms off. Supringsling I watched the girl in Topshop take the take off so was confused why I was setting it off. I ended up taking it back to the car and carrying on shopping. Although, I was still setting the alarms off. The only other bag I had with me was Primark which my boyfriend was carrying and was stood behind/in front everytime. I've now had to leave my Zara bag at home and only take my purse and phone out with me just in case I have to go in somewhere like Asda which I also set the alarm off with. Decided that it is either my handbag or something in it. I have emptied it and can't find anything. So annoyed. Anyone experienced this?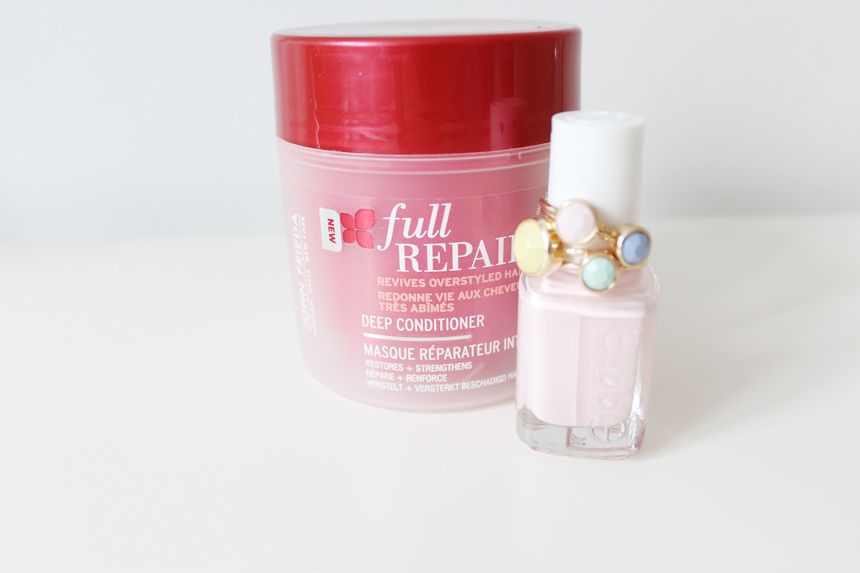 I'm still loving the John Frieda Full repair range so picked up the Deep conditioner. The rings are from Primark for a couple of quid. Really liked the pastel colours. They were all stuck together but I took the bar off so I can decide if I want to wear them separately or all together. Finally, I caved in and brough Essies Nail polish in Fiji. I've just used the nail masks and painted my nails in it and it's so pretty. I thought it was going to be so sheer, but two coats and it's opaque.
Finally, all is coming together with the shop! Bank is all behind us and we're in talks with the lanlord now. So just have the solicitars to have to wait for basically. I've spent nights looking for stock. Can't complain. My business bank card came through yesterday so may put some orders in tomorrow. Exciting! :) It's going to be mine and my mums shop. I am going to stay in full time work in my office job untill we bring in enough money. But will obviously work evenings and weekends. We are stocking crafts, gifts, homeware, handbags and jewellery as well as everything else in between. Currently going through tons of bath bombs trying to decide which to stock.