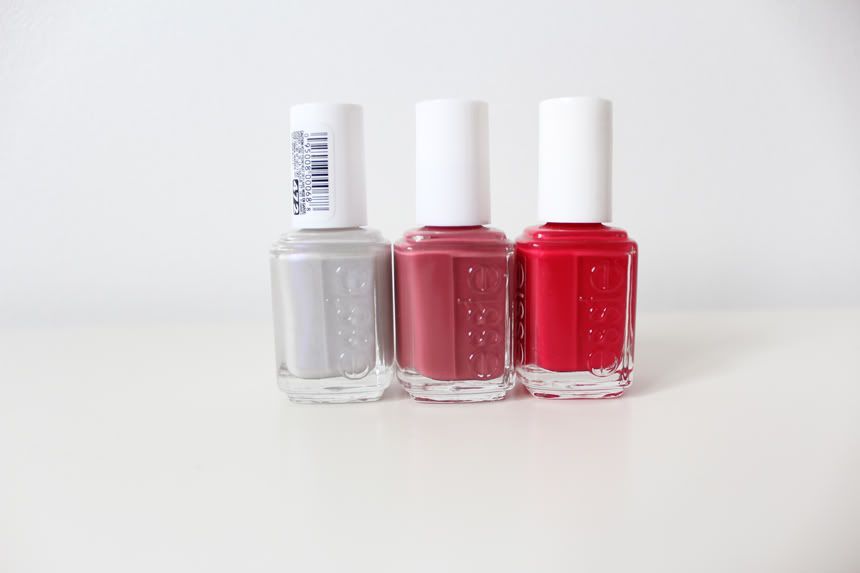 I often go into TK Maxx to look at the homeware section as I often find some lovely things which I wouldn't else where. Every so often I will also have a look at the beauty section. I remember a couple of months ago seeing that they had some nail care products by Essie, but they didn't take my fancy although I wish I picked up the cuticle remover now.
I got the set of the Nail polishes at the weekend, and they had so many I found it hard to choose. Think I'm going to go back and get some more. I hadn't tried any Essie polishes before, but always heard what good quality they are. Don't think the photo of the polish on my nails does it justice as I quickly did it and had some ugly glitter polish I couldn't remove underneath. I spent an hour last night soaking them, and finally it is off. I do still love chunky glitter polish. It's just such a pain to remove.
Anyways, back to the polish. My favourite has to be the dusky mauve shade which is 'In stitches'. It is comparable to Models Own Vintage pink. Better consistency though.
The Essie polish in 'She's picture perfect' is so so pretty. It has flecks of blue, pink and lilac running through it. In the photo I have only applied one coat, so I'm sure if it was built up it would be opaque. The colour is more on the metallic side and not glittery. Think it's really unique. Well it is in my nail polish collection.
The red is a pinkey/red in the shade 'red label'. It would look great with a tan in the summer. Another thing I have noticed with Essie polishes is the shine it creates. I usually use a shine top coat but think my nails would be way too shiny if I did.
I also got Essie's Pre-manicure Nail mask. This one is for Normal nails. There was one for Dry nails but the packaging was even more battered than this one. And this one if pretty battered ,as you can probably see. I've never tried any nail masks before so really wanted to try it. There are three sets in the product. For just £3.99 that's pretty cheap. I often get dry nails and with changing my polish every few days I can see how damaged my nails look. Hopefully it helps. I'll post my thoughts on it when I finally get a chance to use them.
I did think when purchasing the Essie products, that they would have been dis-continued or something but just had a look at the website and they are still available. The polishes came in a pack of three for £9.99. So I basically got each one for just over £3. Pretty much a bargain. I'm going to definitely go back and get some more. TK Maxx has stocked the old line of Stilla products for so long, and with the occasional recent Nars Product in there also it's definitely worth checking out your local TK Maxx.