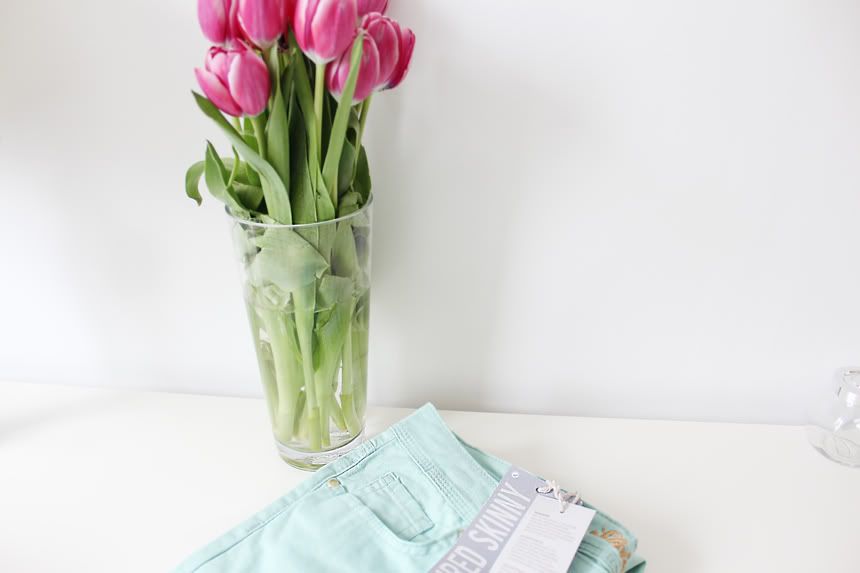 JEANS IN PEPPARMINT - PRIMARK £11
Today I have literally sat at my macbook sourcing materials for some projects I am going to start. These are all going to be on my Online shop. I'm actually really exciting to get doing them. One of the things is candles, which I have basically mixed the scents together to create something I love. Hopefully they'll turn out well.
I picked up these jeans in Primark yesterday. I love the colour. They describe them as peppermint. Can't wait to wear them with a simple knitted top. I would have worn them today, but I was having a fat day. That meant I wore my H&M oversized knitted jumper and my black skinny jeans. Tomorrow I'm planning a kind of detox. Not a proper detox, but I am basically not going to eat any treats for a week. I really want to get into healthy eating and excerising to get into the shape I want to be, but It will never happen if I don't start now. Not quite now, I have just had a sunday roast. So tomorrow I'm going to be topping up on the water. I really need to invest in a cross trainer. Keep eyeing some up on Amazon, but then I think I could buy so much makeup/clothes instead and it goes out the window. I really need to get some inspiration, so going to have a search for some blogs. That usually helps.
Right, better get finishing making some orders online. Then it is off to watch TOWIE. I don't plan on going to bed early tonight, I really don't want my Monday morning to come round as quickly as it usually does. One day I hope I don't have to say that.